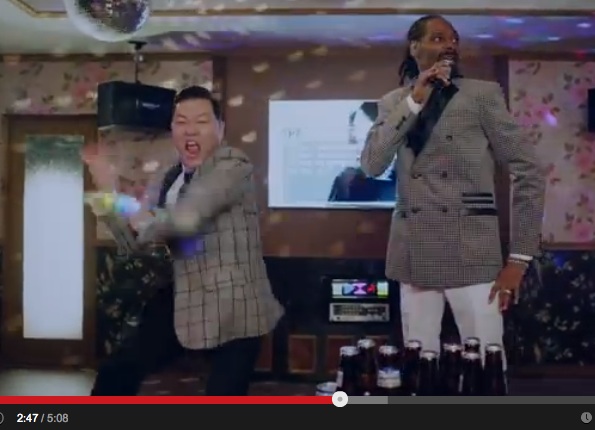 Most conversations about non-black performers in hip-hop involve discussions of "cultural appropriation," with the language of "cultural exchange" reserved for only the most sunny-eyed racial apologists. Given the music industry's dark history with whitewashing, many have been quick to point out the problematic politics of artists like Macklemore and Iggy Azalea as high risers in the rap genre. Despite the upsettingly true narrative of constant exploitation, Korean rapper Psy presents a compelling case as a non-black artist breaking the trend.
When Psy's "Gangnam Style" flooded airwaves and Facebook walls in 2012, I was hesitantly optimistic about the introduction of Korean music to mainstream America. It was about time the garishness and flash of Korean pop culture traveled west, despite the possibility of audiences "Columbusing" it. "Gangnam Style" was the perfect vehicle for such an introduction; it had the wacky dance moves, an ounce of sheer absurdity, and numerous cameos by prominent Korean actors and actresses. However, the flair and memetic qualities of the music video eventually wore off, relegating the hit to the annals of future bar trivia questions. As a coup de grâce to any hopes of an authentically Korean presence in the American consciousness, Scooter Braun signed Psy. Who? Well, the guy who has traditionally signed acts that are anything but subversive: pop one-hit wonder Carly Rae Jepsen, boy band The Wanted, frat anthem rap-star Asher Roth, and Justin "The Biebs" Bieber.
Psy still kept it real, though. After attempting to replicate the success of "Gangnam Style" with a similarly themed video in 2013's "Gentleman," Psy went a different direction in 2014. "Hangover" and its respective music video featured Psy parading through Seoul on a drunken escapade with American rap icon Snoop Dogg. However, this appearance by Snoop was not a mere cameo, but rather, a rapping repartee that mixed both languages and styles.
Throughout the video, both rappers adopted personas more typical of the other's culture. Psy, renowned for a hyper-campy presentation style, added several moments of gangsta posturing throughout "Hangover" one would expect in a run-of-the-mill American rap music video. As an illustration, here is a shot of Psy mean mugging the camera next to a shot of A$AP Rocky pulling a similar power move in the video for F*@%$n' Problems.
Conversely, Snoop Dogg, who's usually "rollin' down the street, smokin' indo, and sippin' on gin n' juice," instead opts for many Korean vices in "Hangover." Aside from mirroring many of Psy's goofy dance moves, Snoop hits the spa, binge drinks soju (Korean rice liquor), and indulges in some late night karaoke. Sing it, Snoop.
While some buzzkills might describe "Hangover" as nothing more than a mindless exaltation of drunken debauchery, it actually represents a landmark moment in hip-hop: a collaboration in which the content is cross-racial and transnational, and the form genuine. Psy and Snoop not only adopt each other's cultural markers, but also develop an equitable rapping relationship over the course of the video. This dynamic sharply contrasts with other prominent non-Black rappers, many of whom tokenize Black artists on their productions. For example, Macklemore, a suburban rapper who rose to prominence primarily on indie/pop charts, features the occasional Black rapper or singer, most notably Wanz and Schoolboy Q. However, such appearances are usually nothing more than cameos, background performances, and an opportunity for Macklemore to showcase a false commitment to diversity.
Psy, on the other hand, has made legitimate attempts to build cultural bridges beyond just the production and physical content of "Hangover." He and Snoop notably appeared on Jimmy Kimmel Live, on which the two performed karaoke with Kimmel at Boardwalk 11 (a renowned Los Angeles karaoke joint). Psy began with a broken rendition of "Who Am I (What's My Name)?", and Snoop followed with an attempt at "Gangnam Style" that came nowhere near a language anyone could call Korean. Nevertheless, the two showcased a willingness to engage each other across the Pacific in a method holistic and genuine. Cultural appropriation remains an ever-present threat in hip-hop, but Psy and Snoop Dogg have shown that the potential for redress and exchange lies in karaoke bars, not thrift shops.