After a summer hiatus, Rhetorically Speaking has returned! Check back weekly for more great posts like this one.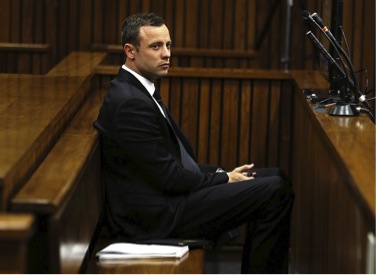 In the early hours of the morning on Thursday, February 14, 2013, South African olympian Oscar Pistorius shot and killed his girlfriend, model Reeva Steenkamp. Pistorius did admit to killing Steenkamp, but claimed that it was the result of a tragic accident, that he believed their home in Pretoria South Africa had been broken in to and he was instead shooting at an intruder. The bail hearing began on February 19, 2013, and Pistorius was formally indicted on two charges of murder and the illegal possession of ammunition. The indictment noted that even if Pistorius mistook the identity of the person he shot, his intention was to kill. The official trial began on March 3, 2014, in the High Court in Pretoria. On September 11, 2014, Pistorius was found not guilty of murdering Steenkamp, though he was found guilty of culpable homicide, defined as "the unlawful negligent killing of a human being," and could face up to 15 years in prison.
What is particularly interesting about this case is the unprecedented media attention the trial has received, in South Africa, and abroad. Time magazine published a cover story entitled "Pistorius and South Africa's Culture of Violence" in their March 11, 2013 issue. The magazine's cover featured a bare-chested Pistorius with his running blades on and the words "Man, Superman, Gunman" superimposed over him. In an article for The Guardian, journalism professor Roy Greenslade described the cover image as "one of those striking cover images that bears all the hallmarks of being one that will live on for years to come." Other media sources from Vanity Fair to Business Day have all published pieces about the trial. An e-book by Laurianne Claase was also released and subsequently made into print, and 48 Hours, BBC Three, and ESPN have all aired documentaries on the case. Social media was an integral factor in the case as well, with a live stream analysis of Pistorius' bail hearing, thousands of Tweets concerning the trial, a Twitter account created by Pistorius' PR team called @OscarHardTruth, numerous blog postings, and multiple Buzzfeed articles.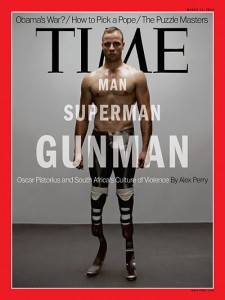 There can be no doubt this was a story that caught the attention of much of the western world. But why? What was it about this particular act of violence that was so intriguing to people when it occurred so far away? It could be that Oscar Pistorius himself was an international figure. Known for his exceptional athletic skill, he was a figure people knew enough about that they could become easily invested. Known as the "Blade Runner," Pistorius was the first amputee to compete in the Olympics in 2012. His quest to run in the Olympics as an amputee portrayed him as a fighter overcoming the odds—an underdog story if there ever was one, and a mainstay of American media. So perhaps people were drawn to this drama by the rise and fall of what could be considered a hero—Pistorius went from a crippling childhood amputation to become "the fastest man on Earth with no legs."
The drama of fallen athletes is also a common staple in western media. Lately the airwaves and the Internet have been consumed by the video of Ray Rice assaulting his wife and dragging her unconscious body from the elevator and the consequent indefinite suspension of Rice from the NHL. Adrian Peterson has also made headlines with charges of child-abuse and his dismissal from the Minnesota Vikings. In the past there have been drug issues, the Minnesota Vikings Love Boat scandal, dog fighting, etc. Yes, the story of the fallen athlete is a common one that still seems to surprise us and grab our attention every time.
More savvy consumers of this trial have ventured to guess that Pistorius was just the headline that grabbed attention, but what kept the story going was perhaps issues of race or gender. On September 12, 2014 The New York Times compared the South African public's interest in the trial to that of Americans in the O. J. Simpson murder trial, reflecting that it this moment showcased "South Africa's complicated obsession with race, crime and celebrity," though it could be argued that really the trial showcased a western obsession with race, crime, and celebrity. Others argued that the trial was so captivating because it encouraged public debates about the legal technicalities of the trial and verdict, perhaps best argued by a cartoon published by The Times on September 16, 2014, entitled "Legal Reasoning Behind Oscar Pistorius Verdict."
While these are reasonable arguments for a national audience, they don't quite cover the fascination of international viewers. I would argue instead that the trial was a test of democracy for South Africa, one in which the west is very much invested. The story of democratic post-apartheid South Africa is seen by many to be an example to emerging democracies throughout the world, and its Constitution is considered to be the epitome of western liberal ideals, perhaps even more so than the Constitution of the United States of America. South Africa stands as a unique success story in the west's quest to bring democracy to the world, and a cornerstone of any democracy is the ability of its courts to function in such a way that the people see it as wise and just. The Pistorius case was just such a test, to see if the courts would be ruled by the hate and racism that is one legacy of apartheid, or would the judge be able to make an objective and fair verdict that the people would abide by.
While I am sure many South Africans are as concerned about the outcome of this trial, should South Africa fail this test, there are unique implications for western nations, who have invested so much into the narrative of South Africa as the shining triumph in our vision for world democracy. Under Woodrow Wilson the United States adopted a policy of liberal internationalism, which, among other things, is dedicated to encouraging the global emergence of democracy. This call for global democracy was taken up once again at the end of World War II, when President Truman stated, "It must be the policy of the United States to support free peoples who are resisting attempted subjugation by armed minorities or outside pressures." Since then the United States and other western nations have embarked on a campaign to bring democracy to the world, a project that has been largely unsuccessful, particularly in Africa (though I could easily cite our most recent failed efforts in Afghanistan and Iraq). In light of these democratic failures, South Africa is a desperately needed victory, one that allows us to continue our push for democracy. It is this critical need for South Africa to succeed and support our narrative that has created a level of investment that I believe draws our collective attention at critical junctures in South Africa's democracy.